Mage
Talk

0
56pages on
this wiki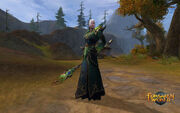 Mage Class
Edit
Availabe Races - Humans | Kindred
TACTICS
Like in pretty much all other MMOs, the Mage class is an extremely heavy damage dealer to both single targets and groups, with multiple ranged AOE and single target spells and a large amount of mana to spam them out continuously. In standard PvE against the normal enemies they can fare quite well against groups of enemies. However, in the team instances like the Fort or Emperor's Canyon which have significantly tougher mobs, you have to be careful not to pull aggro away from your group's main tank with your AOE spells.
For Jobs, the Mage depends on the initial three recommended jobs of Botany, Alchemy and Cooking more than any other class. You are going to eat through mana potions like popcorn, and all three of these jobs are vital for keeping up your supply of potions. Alchemy mainly has mid level potions that can be used for a quick boost in the middle of combat, while Cooking has much stronger heal-over-time items for when you are resting outside of combat. Botany is crucial for supplying both of these. You should practice all three of these religiously. It is best to have a moderate supply of HP potions and a massive supply of MP potions of both types on you at all times. As for your remaining 3 job points, it's purely up to personal preference as to what you want to do, though Fishing isn't really recommended as it is overshadowed by Alchemy and Cooking.
Skills & Spells
Edit
NOTE: Values separated by a backslash (i.e. 20/40/60) represent what that particular statistic is worth at the varying available levels of the skill. Numbers next to the name of the skill represent the character levels at which the various levels of the skill get unlocked.
Fireball (1/x/x/x/x)
Ice Bolt (1/x/x/x/x)
Thunderclap (1/x/x/x/x)
Ice Spike (1/x/x/x/x) (Talent Only)
Rage of Demons (40/x/x/x/x)