Pets
Talk

0
56pages on
this wiki
==

A level 1 scarab pet

Pets in Forsaken World play a very important role. They can heal, deal damage, and grow from small fluffy creatures to hideous, fanged monsters - that consequently are very handy to have in a fight. Edit
First and foremost, you have to hatch a pet from its egg in order to even use it. To begin the hatching process, right click on your pet stone to put it into one of your available Incubation slots. At this point, you are presented with your first opportunity to increase your pets

statistics. The longer a pet remains in its hatching state, the more powerful it will be immediately upon hatching. A pet can be hatched within 10 minutes of starting incubation. However, if it takes at least 10 minutes before incubation is complete you have a chance of getting a Master version of the pet, which has stronger statistics than the original (over 30 minutes and over 60minutes also increase the version of the pet hatched). The length of incubation period is random.
After hatching your pet, you can check its statistics screen for a variety of things. One thing to take close note of are any offensive or defensive abilities that it comes with. You can also check to see what the pets strengths and weaknesses are - which are randomly determined upon hatching. You also need to make sure you've got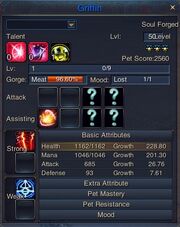 the correct food to feed your pet. Pets have a hunger gauge that will gradually deplete, and must be kept full to keep your pet happy. You can buy pet food from the pet merchant in Freedom Harbor, or find it out in the wilderness from killing monsters. Certain pets will require certain foods, so make sure you get the right kind.
As you kill monsters with your pet summoned, it will gain experience the same way you do. As your pet gains levels, its statistics increase, it becomes more powerful overall, and even its size changes. The higher level the pet, the bigger it will be. Once you've decided on a particular pet, there are a variety of tweaks and changes you can do as an owner. Explore the pet menu by hitting "P" in game, and see which areas you'd like to focus on.
MOOD
Pets can be placed into certain Moods based on how the player interacts with them. When the pet is currently summoned, clicking on the little paw icon below their status bar will bring up the Interaction menu. You will see multiple possible actions for interacting with your pet (Compliment, Scold etc). Each of these will put the pet into a certain Mood, which will boost its attack and increase the elemental resistance of both your pet and you to a particular element. Move the mouse over each action to see what it benefits.
You will also see an Interaction Points value at the top of the menu. You gain Interaction Points by having your pet out and fighting alongside you, and it costs one Interaction Point to use one of the actions. The pet can have the same interaction done to it multiple times to increase the strength of that mood's effect and this training is permanent, however you will be prevented from spending more Interaction Points in that mood than the pet's level. You can see the current status of this "mood training" in the Pet Status window under the Mood tab. Be advised that the pet's Mood can also randomly switch, but you can still spend an Interaction Point to switch it again back to one you want even if that mood is maxed. Keep in mind that you can only get the benefits of a single Mood at a time and you will not get enough Interaction Points to maximize them all, so make sure to train in ones that you really need.
The action Compliment to make your pet Proud is one of the most useful in PvE since it boosts the Physical resistance, which is among the most commonly used by enemy NPCs.